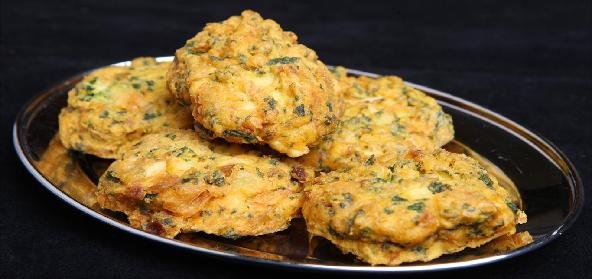 Ingredients:
• 1 large head Broccoli
• 1 cup plain flour
• 1 tbsp gram flour
• 1 tbsp Corn flour
• 1-inch piece ginger, grated
• 1 flake garlic, grated
• 2 green chillies, chopped very finely
• salt to taste
• oil to deep fry
Method:
Break broccoli into bit-sized florets. Put them into boiling water for a minute.
Drain under tap water to cool.
Pat dry with a clean cloth and keep aside.
Put all flours in a mixing bowl. Add all other ingredients, except the oil.
Make batter by adding enough water, so that it coats the back of a spoon.
Heat oil to deep fry. Add a tbsp of hot oil to the batter and mix.
When oil is hot and smoky, dip each floret into the batter and slip it into the hot oil.
Repeat for as many florets as will comfortably fit in the hot oil.
Deep fry, stirring once or twice, till the pakodas are crisp and golden.
Drain and serve hot with ketchup or tomato salsa or even tamarind chutney.
Recipe courtesy of Saroj Kering