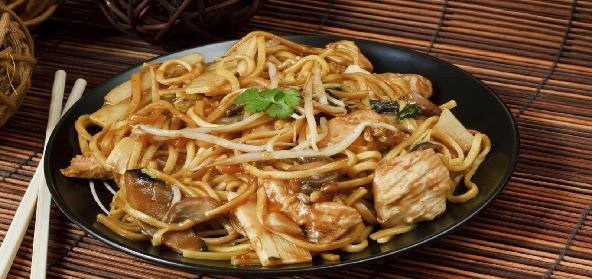 Ingredients:
• 200 g – glass noodles
• 200 ml – cooking oil
• 200 g – vegetables, shredded (carrot, cabbage, onion, red and yellow pepper, spinach)
• a few Garlic cloves, crushed
• a pinch of monosodium glutamate
• 1 tsp – Onion oil
• salt to taste
Method:
Boil the noodles with a little salt till cooked.
After draining the excess water, deep-fry the noodles in hot oil.
Keep them aside.
Heat about 3 tsp oil in a pan.
Add the shredded vegetables and garlic flakes and toss.
When three-fourth cooked, add salt, monosodium glutamate and onion oil.
Finally, add the noodles and stir lightly.
If you wish, you can place the noodles on a plate and top it with the vegetable preparation.
Recipe courtesy of Anita Raheja