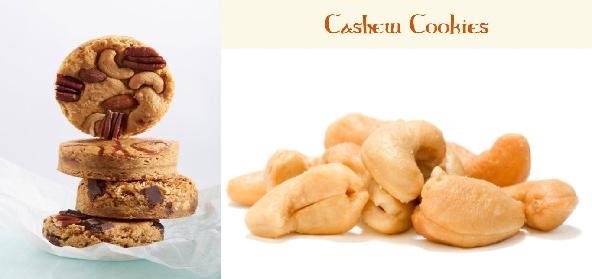 Ingredients:
• plain flour (Maida) – 2 cup
• powdered Sugar – 1/2 cup
• Ghee – 1/2 cup
• Cardamom powder – 1/2 tsp
• Nutmeg powder – 1/2 tsp
• clotted Cream (Malai) – 3-4 tbsp
• finely chopped Cashew nuts – 4 tbsp
Method:
Pre-heat the oven to 180 C.
Beat sugar and Ghee together till light and fluffy.
Add flour, cardamom and nutmeg powders.
Knead into firm but pliable dough, adding a little clotted cream.
Roll out to about 3 mm thickness.
Sprinkle cashew nuts on top and press down gently with the rolling pin to make the nuts stick to the dough.
Cut with a biscuit cutter and place on a greased baking tray.
Bake till light brown in color (about 15 minutes).
Cool and store in an air tight container.