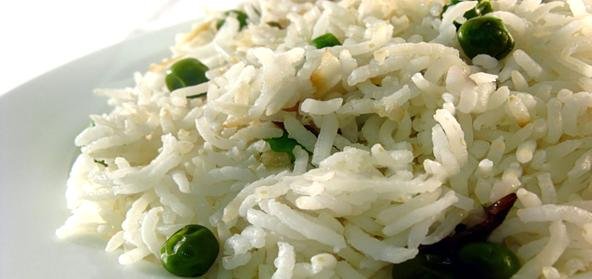 Ingredients:
• 2 cups Basmati Rice
• 1/2 cup frozen Green peas
• 1 tbsp cooking oil
• Salt to taste
• Water
• 1/2 a Lemon`s Juice (optional)
Method:
Wash the rice. Soak in water for 30 mins. Now drain the water.
Boil 1 litre water. Add salt to taste, and 1/2 tsp oil. Add the rice. Stir occasionally. In about 12 – 15 minutes it will be done.
Drain and spread on an flat tray to allow the heat to escape.
On another pan, add the remaining oil, heat it. Add the green peas, saute for 7 minutes.
On the serving bowl spread 1/4 of the rice, now spread 1/4 of the cooked peas, continue till done.
Peas Pulao goes very well with beef or chicken tikka masala.