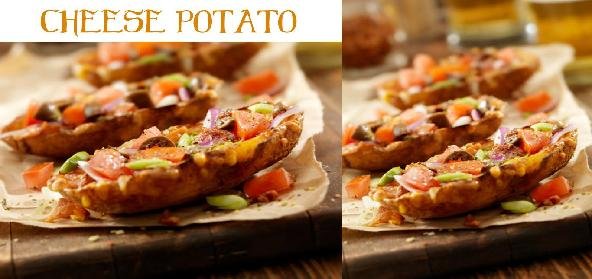 Ingredients:
• 1 kg – Potatoes
• 8-10 green Onions
• 2 Tomatoes
• A bunch of radish leaves
• 1 tbsp – chopped Spinach
• 4 tbsp – Sarson ka saag
• 1 tsp – black pepper powder
• 1 tsp – Poppy Seeds
• 1 cup – sour Cream
• 6 tbsp – Ghee
• 300 gms – cheese
• Salt to taste.
Method:
Peel potato and cut in the centre into two halves.
Finely chop green onions and tomatoes and all the green leaves.
Grease the baking tray with ghee and put poppy seeds.
Now place the cut potatoes.
Bake in a pre-heated oven at 400 degree F for 1/2 an hour. Beat cream and cheese in a container.
Heat ghee in a pan and fry onion until it turns pink.
Then add tomatoes, salt and black pepper powder.
Add cream and cheese.
Then add greens and fry for a minute.
Pour this on potatoes and serve hot.