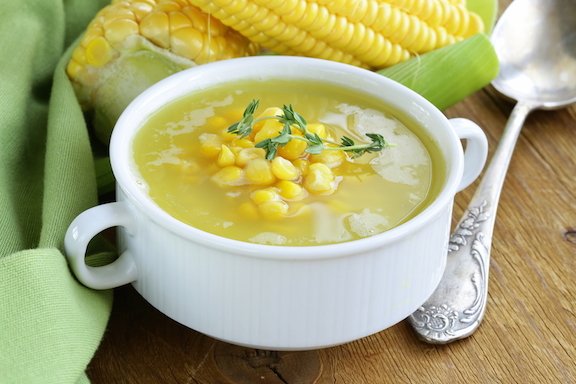 Very yummy and delicious soup with the full taste of cream. Creamy conr soup is perfect for the lunch and dinner meal. Use fresh corn while making the soup , it gives a rich taste to the soup. Creamy corn soup is very easy to make at home.
Ingredients:
– 1 1/2 cup grated fresh corn
– 1 1/2 cup milk
– 1 tablespoon butter
– 1 cup coconut milk of medium thickness
– Salt, pepper to taste
– A pinch of garam masala
For the topping
– Parsley or mint, finely chopped
How To Make?
1. Mix the grated corn in the milk. Pressure cook the mixture. Leave it for some time and let it be cool.
2. Now, take the corn and make a puree of it.
3. Now, melt butter, add corn puree, coconut milk, salt and pepper to taste.
4. Then, dilute soup with water to get a fine creamy consistency. Simmer soup for 5 minutes.
5. At the time of servings, add a pinch of garam masala, sprinkal a chopped parsley or mint in the soup bowl and serve it.
Preparation Time: 10 Minute
Cooking Time: 25 Minute
Servings: 6 Person