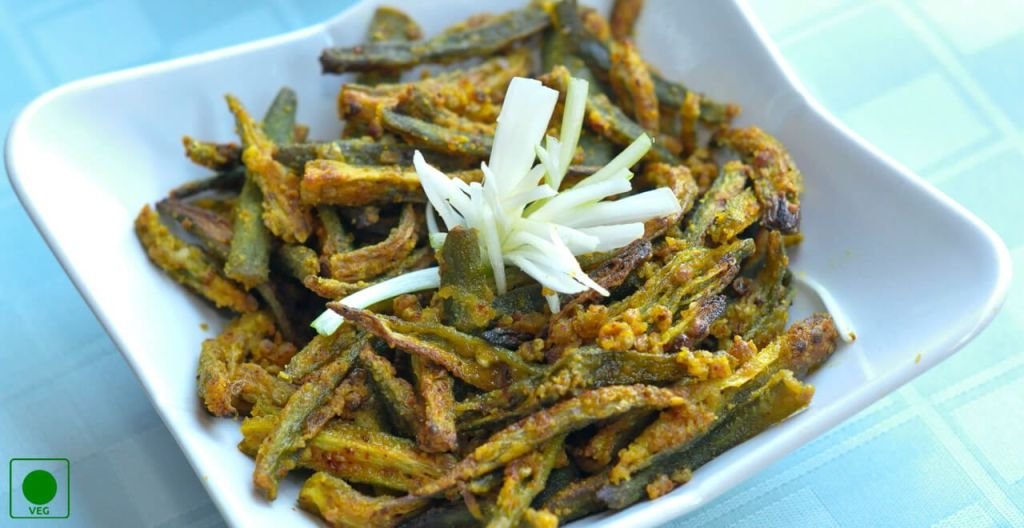 Crispy bhindi rava fry is an amazing and wonderful bhindi/okra recipe. This crispy okra recipe has very crunchy texture and tasty flavors and this recipe is an alternative for a typical or regular bhindi recipe. It is so simple and not oil at all. In this dish, okra are seasoned with spices then coated with semolina mixture then saut?ed on MEDIUM flame till crisp. This is a crunchy and crispy way of enjoying the goodness of okra. Try out today!
Ingredients
– 2 cups lady fingers/okra
– 2 teaspoons red chilli powder
– 1 teaspoon turmeric powder
– 1 teaspoon lemon juice
– 2 tablespoons semolina (rava)
– 1 teaspoon coriander-cumin powder
– Salt to taste
– 3 tablespoons of oil
How To Cook?
1. Wash the okra and wipe it very well then slit okra into thinner slices.
2. Take this slit okra in a bowl and season it with 1 teaspoon of red chili powder, turmeric powder and lemon juice. Mix well.
3. In a bowl, place semolina and add red chilli powder, coriander-cumin powder and salt. Mix them well.
4. Now, mix this semolina mixture along with seasoned okra and make sure the okra are coated well.
5. Heat oil in a pan and once heated add seasoned okra and toss it well.
6. Cover the pan with lid and cook it over MEDIUM heat for 4-5 minutes.
7. After 5 minutes remove the lid and cook it for another 5 minutes till crisp.
8. When the okra are crisp turn off the heat and remove from the pan and serve hot with roti and curd.
Preparation Time: 10 Minutes
Cooking Time: 15 Minutes