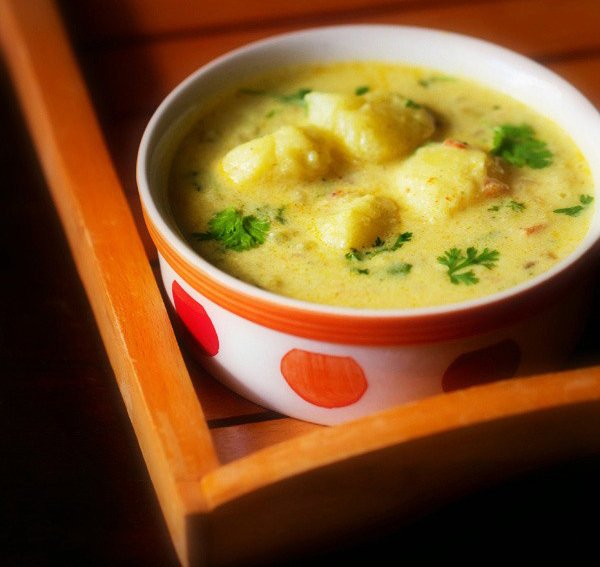 This recipes is about to cook baby potatoes in a creamy curd gravy. Potato is every used vegetable in Indian food culture. Adding curd to potato sabji makes it more tasty and yummy in taste. This is very easy and quick recipe. You can also make this recipe during your fasting or vrat. Try this dahi wale aloo recipe with paratha, roti or rice.
Ingredients
– 1/4 teaspoon asafoeida
– 1 teaspoon cumin seeds
– 2 tomatoes
– 1/2 teaspoon turmeric powder
– 2 teaspoon red chili powder
– 4 small baby potatoes
– 1/2 cup water
– 1/4 cup curd
– 1 teaspoon garam masala powder
– 2 tablespoon oil
– Salt to taste
– 1 tablespoon chopped coriander leaves
How To Cook?
1. Take a curd and churn it properly then keep it into refrigerator for 10 minutes.
2. Now, take a frying pan and heat the oil and add the cumin seeds to it. When the cumin seeds turns read in color add asafoeida to it.
3. After 30 seconds add chopped tomatoes to it and fry it for 2-5 minutes.
4. Then, add turmeric powder and red chili powder to it and mix it well. Cook it for 2-5 minutes then add baby potatoes to it and again cook it for 4-5 minute.
5. Now, add necessary water to it and boil the sabji for 5-10 minutes.
6. Then add curd to this mixture and again let it cook for 2-3 minute.
7. At last, add garam masala powder to Dahi Aloo sabji and cook it for 2 minutes.
8. After that remove the frying pan from the heat and garnish it with coriander leaves and serve hot Dahi Aloo Sabji with paratha or butter roti or rice.
Preparation Time: 15 Minutes
Cooking Time: 25 Minutes