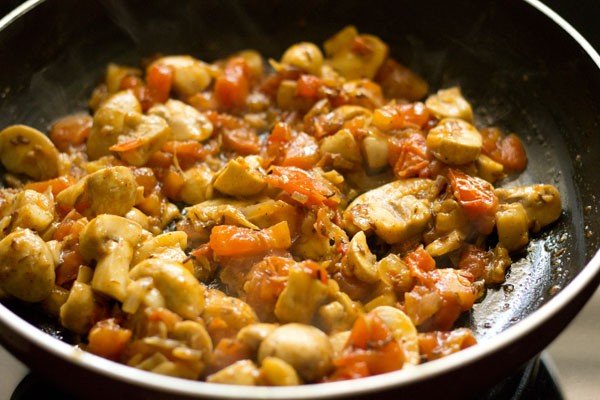 A delicious and unusual mushroom (dhingri) and paneer delight in onion gravy
Ingredients:
3 1/3 cups (675 gm) button mushrooms (dhingri)
2 1/4 cups (450 gm) paneer (cottage cheese)
1/2 cup chopped onion
1 cup chopped tomatoes
4 teaspoon ginger-garlic paste
1 teaspoon cumin seeds
Red chilli powder to taste
1 teaspoon white pepper powder
1/2 teaspoon garam masala powder
1 tablespoon chopped coriander leaves
2 tablespoon oil or ghee (clarified butter)
Salt to taste
Method:
1. Drain and wash mushrooms in running water to remove grit.Keep aside.
2. Heat ghee or oil in a kadhai, add cumin seeds and allow it to crackle.
3. Now add onion and saute until golden brown. Now add ginger-garlic paste and saute for a minute.
4. Add red chilli powder, pepper powder and saute.
5. Ad mushrooms and fry for 3-4 minutes.
6. Add paneer and cook for another 4-5 minutes.
7. Now add tomatoes, salt and fry for 5-6 minutes or until cooked.
8. Sprinkle garam masala and mix well.
9. Garnish with chopped coriander leaves and serve hot.
Cooking time: 25 minutes