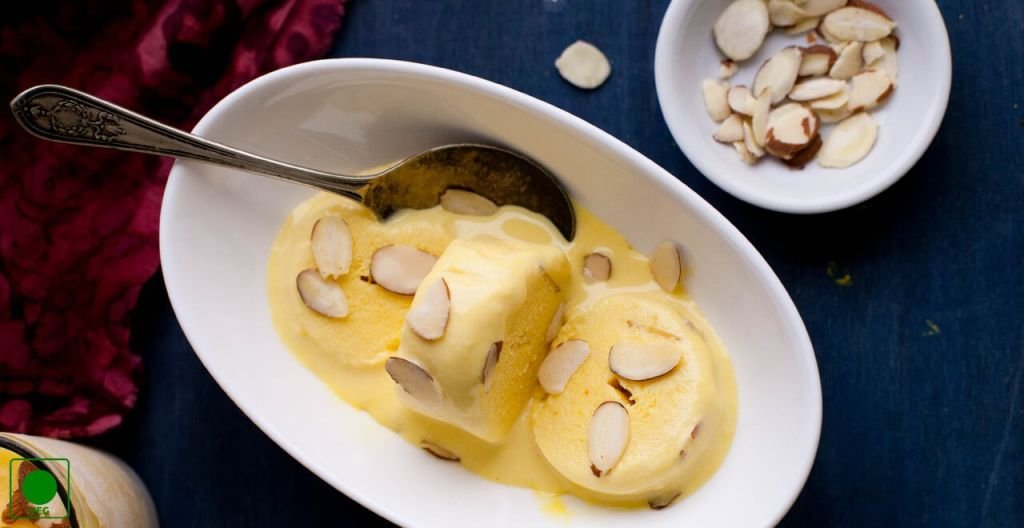 Dry Fruit Kesar Kulfi is a most popular street food dessert in India. This kulfi is irresistible and it is very creamy yet grainy. Traditionally, this classic kulfi is an old fashioned Indian ice-cream and without serving this after your meal, your meal is incomplete. This yummy kulfi is made by reducing the milk, bare amount of dry fruits and flavored with saffron and cardamom powder, it is very easy to make and is beloved by everyone on the plate. Try this authentic version of delicious dry fruit kesar kulfi.
Ingredients
– A few saffron strands
– 1/4 cup warm full-fat milk
– 1 tablespoon corn flour
– 4 cups full-fat milk
– 5 tablespoons sugar
– 1/4 teaspoon cardamom powder
– 1/4 cup chopped dry fruits (almonds, cashew nuts & pistachio)
How To Make?
1. In a bowl, combine the saffron and warm milk. Mix well and set aside.
2. In another bowl, combine the corn flour and 2 tablespoons of water. Mix well and set aside.
3. In a deep non-stick pan, place milk and bring it to boil. Once it starts boiling, let it simmer for about 6-7 minutes, while stirring occasionally.
4. Now, add corn flour-water mixture and sugar to it, mix well and cook it over MEDIUM heat for about 32 minutes. Stir occasionally, while scrapping the sides of the pan.
5. After 32 minutes remove the pan from heat and set aside to cool completely.
6. Once cool completely, add cardamom powder, saffron-milk mixture and dry fruits and mix well.
7. Pour this mixture to the kulfi moulds and freeze overnight.
8. To unmould these kulfis, allow the moulds to remain outside the refregeratoe and then unmould by inserting wooden skewer stick in the centre of the kulfi and pulling it out.
9. Serve this delicious kulfi immediately.
Preparation Time: 10 Minutes + Overnight for freezing
Cooking Time:40 Minutes
Servings: 6 Persons