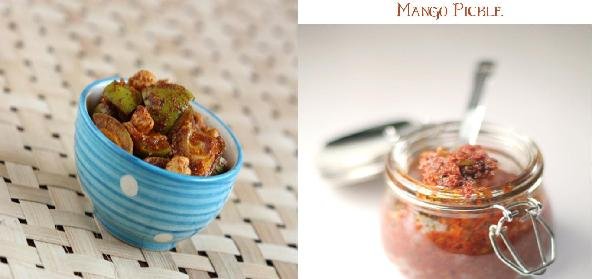 Ingredients:
• 1 Kg – Green Mango | 1/4 Kg – Ginger Garlic
• 1/4 Kg – Salt
• 1/4 Kg – Red Chilli powder
• 1/4 Kg – Til /Sesame Oil
Method:
Cut the mangoes into pieces (the size of half a lemon), clean them with a dry cloth and put aside.
Clean the ginger and garlic and make a fine paste.
In a big vessel put the mango pieces, salt, red chilli powder, ginger garlic paste and mix well.
In a kadai, heat 100 gm oil and put 1/2 tsp mustard, 1/2 tsp jeera and 1/2 tsp methi.
As the seasoning starts to splutter, take off heat and cool it.
Heat a vessel for few minutes till it becomes really hot and switch off the stove.
Pour the remaining 400 gm of oil into the vessel and allow the oil to cool in the vessel.
Do not heat the oil in the vessel.
Clean a glass bottle and dry it completely.
Put all the ingredients in (the oil must have cooled down completely) and mins well with a wooden spoon.
Close the lid tightly and keep aside for about 2-3 days.
The pickle can be used as and when required.
Recipe courtesy of Abhilash