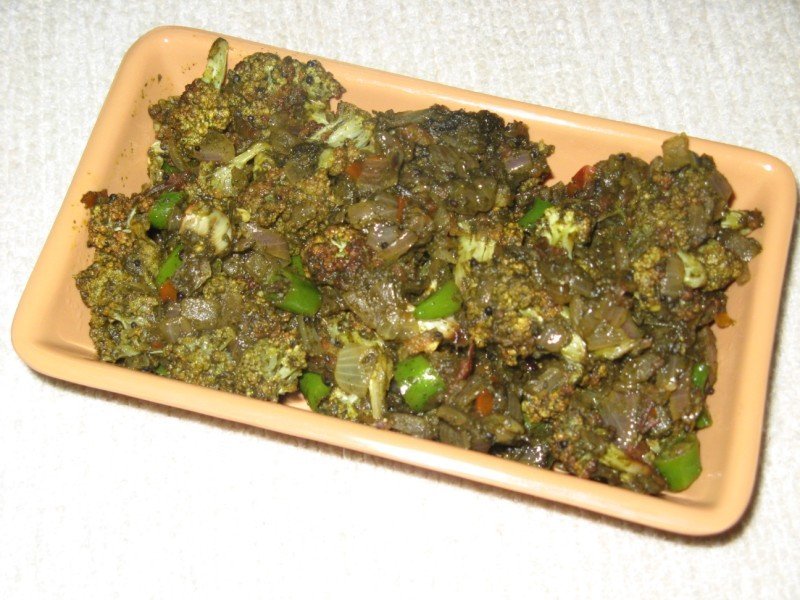 Delicious and spicy cauliflower preparation, in dried fenugreek leaves gravy
Ingredients:
1 medium sized cauliflower, cut into florets
1/2 cup kasoori methi (dried fenugreek leaves)
2 small onions, chopped
1 1/2 inch ginger piece
3-4 garlic cloves (or as per taste)
4 green chilies, sliced
2 medium sized tomatoes, chopped
1 teaspoon mustard seeds
1 tablespoon coriander powder
1/2 teaspoon turmeric powder
1/2 cup smooth yogurt
2 tablespoon oil
Salt to taste
Method:
1. Soak cauliflower florets in salted warm water for 10 minutes. Drain and wipe dry.
2. Deep fry the cauliflower florets until golden brown. Set aside.
3. Roast kasoori methi leaves on a griddle or tawa, cool and grind to powder.
4. Grind ginger and garlic to a paste.
5. Heat oil in a kadhai or pan, add mustard seeds, ginger garlic paste, green chilies and allow the seeds to crackle.
6. Now add onions and fry until golden brown.
7. Now add tomatoes and fry until oil separates.
8. Add coriander powder, turmeric powder and saute for half a minute.
9. Add little water, cover and cook for 2-3 minutes more.
10. Remove the kadhai or pan from heat and add yogurt, stirring continuously, keep it back on the heat and cook for 5 minutes.
11. Add fried cauliflower, salt, kasoori methi and mix well.
12. Let it simmer for 5-8 minutes.
13. Garnish with some dried fenugreek leaves and serve hot.
Cooking time: 40-45 minutes