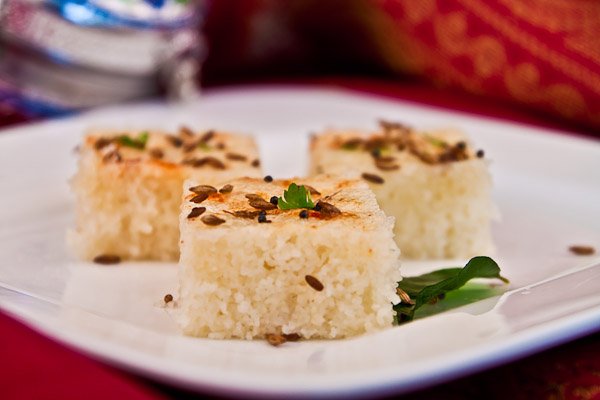 Traditional Gujarati preparation made with lentils and rice
Ingredients:
1 1/2 cups rice
1/2 cup urad dal
1/4 cup chana dal
1 cup sour curd
2 tablespoon finely chopped green chilies
1/4 teaspoon soda-bi-carbonate
Pinch of asafoetida (hing)
1 teaspoon mustard seeds
1 sprig curry leaves
Coriander leaves for garnishing
3 tablespoon oil
Salt to taste
Method:
1. Soak rice, chana dal and urad dal overnight in water.
2. Next day grind drained rice and lentils into a smooth paste, using enough water.
3. Add curd and make into a thick paste.
4. Keep aside to ferment for at least 6 to 7 hours.
5. Add soda bi-carbonate, 1 tablespoon oil, asafoetida, green chilies, salt and mix well.
6. Pour the batter in a greased plate and steam for about 10 minutes.
7. Allow it to cool and then cut into pieces.
8. For tadka, heat 1 tablespoon oil in a small pan, add mustard seeds, curry leaves and allow it to crackle.
9. Pour tadka over dhokla pieces.
Cooking time: 40-45 minutes