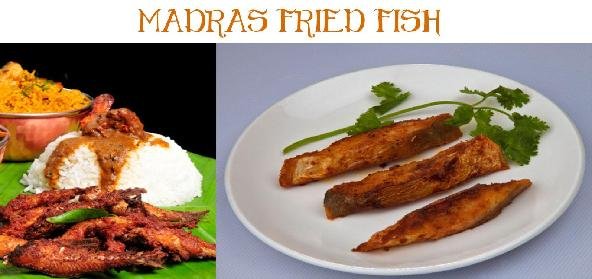 Ingredients:
• fish slices (use Sear, Pomfret , Koduva or other similar fish) – 1/2 kg
• chilli powder – 2 tsp
• Turmeric powder – 1/2 tsp
• Garlic – 2 tsp, minced
• Onion – 2 tbsp, minced
• Egg 1
• Rice flour – 2 tbsp
• oil to deep fry
• salt to taste
Method:
Wash the fish slices and drain completely.
Combine all the ingredients from chilli powder to salt together.
Add the lightly beaten egg and mix well.
Coat both sides of fish slices with this mixture and keep aside for one and a half hour.
Sprinkle the slices with rice flour.
Deep fry in hot oil till the fish is cooked.
Avoid over frying, which makes the fish tough.
Drain on kitchen paper and serve hot.