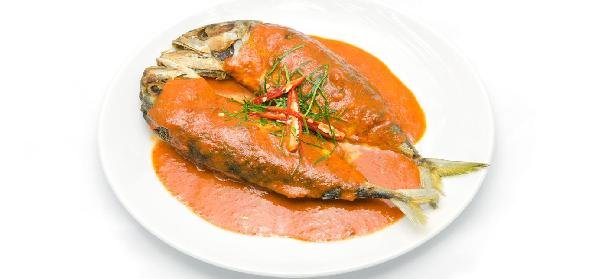 Ingredients:
• 1/2 kg – white Pomfret
• 8 to 10 – red dry chillies
• 1 tsp – Turmeric powder
• 1 tsp – coriander/dhania
• 1 tsp – Red Chilli powder
• 7 to 8 flakes/cloves – garlic, coarsely ground
• 2 – medium onions, finely sliced
• 1 cup – coconut, scraped
• 1 tsp – fish curry powder
Method:
Clean the fish. Apply a little salt, turmeric and keep it aside.
In three tbsps of oil, fry onion, dry chillies, turmeric and coriander seeds, till the onions turn light brown.
Grind the grated coconut, with the above ingredients, to a paste.
Apply the ground paste on the fish and keep it aside to marinate, for 15 minutes.
Fry the garlic flakes in 5 tbsps of oil. Add red chilli powder and fish masala.
Add the fish pieces, with the marinade and add 2 cups of water. Simmer on low heat, till the fish is cooked.
Serve with chapatti or hot rice.
Recipe courtesy of Walter