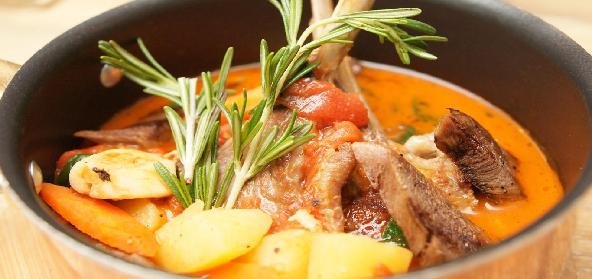 Ingredients:
• 12 – paaya or lamb legs
• For Paste: 3/4 – dry Coconut
• 1 litre – Curd
• 1 cup – Chickpeas paste
• For Stock: 2 – onions, finely sliced
• 3 to 4 pieces each – cloves, Cardamom and Cinnamon
• 3 – Bay Leaves
• 1 bunch – Mint leaves
• 2 cups – Coriander leaves
Method:
For paste:
Roast the coconut till light brown. Roast poppy seeds.
Grind to a smooth paste by adding water as needed.
For Lamb Legs: In an 8 litre pressure cooker, heat oil.
Add the spices – cloves, cardamom and cinnamon.
Add 2 finely sliced onions. Saute for a minute.
Add the lamb legs, the ginger-garlic paste, mint, coriander, 1 cup curd, bay leaves, turmeric and salt.
Close the cooker and pressure cook for 45 minutes.
After the first whistle, you can turn the gas to low and simmer for about 1.5 hours.
For gravy: Heat remaining oil.
Add finely sliced onion and green chillies.
Fry till onions are nicely browned.
Add the remaining ginger garlic paste, curd, red chilli powder, little salt, coriander powder and mix well.
Add the bay leaves.
Add the ground paste and add a little water.
Keep stirring so that the masala does not burn.
When oil leaves the side of the pan, add the chick peas paste and fry again.
Cool the pressure cooker and using a big ladle.
Add the lamb leg and the stock to the above gravy. Stir and mix well.
Keep on a low flame till the flavours are absorbed.
Keep cooking till oil leaves the side of the pan.
Garnish with chopped coriander and mint leaves.
Serve hot with chapattis in deep bowls.
Recipe courtesy of N Shereen