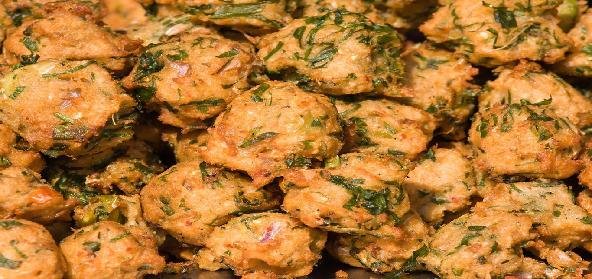 Ingredients:
• Besan – 3 cups
• Onions – 10
• Jeera seeds – 1 tsp
• Turmeric – 1/2 tsp
• Salt to taste
• Corn-starch – 1/4 cup
• Coriander leaves – small bunch
• Chilli powder as per taste
Method:
Sieve together besan and corn flour.
Add jeera seeds, turmeric, salt, chilli powder to the flour mix.
Add water and blend well. Keep aside for 1 hour.
Cut onions lengthwise. Dust with besan powder and salt.
Drop onions into besan mixture.
Heat oil in pan. Drop a tbsp of the onion-besan mixture and deep fry.
Repeat with rest of the dough.
Serve hot.
Recipe courtesy of joyce