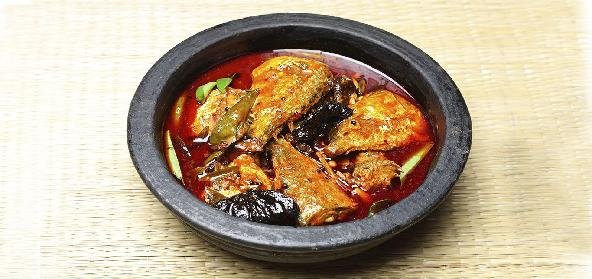 Ingredients:
• King fish – 1 kg
• Chilli powder – 2 tbsp
• Turmeric powder -1/2 tsp
• Fenugreek – 1/2 tsp
• Mustard Seeds – 1 tsp
• Red Onions – 4
• Garlic – 3
• Ginger – 4 pieces
• Coconut oil – 1/4 cup
• Curry leaves – 10 sprigs
• Salt as required
• Split Green chillies – 6
• Water – 3 cups
• Tamarind paste – 1 tsp
• Oil
Method:
In a frying pan, heat about a 1/4 cup coconut oil or vegetable oil.
Splutter a few mustard seeds in this oil.
Now add the chopped onions, few curry leaves and split green chillies and stir fry.
To this, add a mix of turmeric, chilli powder, water and cook.
When the oil begins to separate add the remaining spices, tamarind paste and sufficient water to make a gravy.
When gravy thickens, set aside.
In a separate frying pan, prepare a bed of curry leaves.
Arrange the pieces of fish on this bed.
Pour the prepared gravy over this.
The pieces of fish should be completely covered.
Add the remaining curry leaves and tamarind, cover with a lid and cook on a low flame.
Do not stir.
When the fish is thoroughly cooked, take off heat.
Serve hot with rice.
Recipe courtesy of Manoj