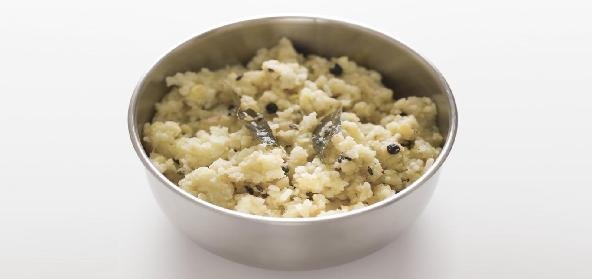 Ingredients:
• 1 cup- white rice.
• 1/2 cup- masoor daal.
• 1/4 tsp- fresh ground pepper.
• 1/4 tsp- whole peppercorns.
• 1 tsp- salt.
• 4 -green chillies.
• a few -curry leaves.
• 1 pinch -asafoetida.
• 1 tbsp -ghee.
• 1 tbsp- oil.
• 1 tbsp -green coriander.
Method:
Wash rice and dal and drain water completely.
In a large saucepan, heat ghee and oil on medium heat.
Slit green chillies lengthwise. Fry the green chillies, curry leaves, pepper powder and peppercorns.
Add the rice, dal and asafoetida to this and fry for 3 mins.
Add 4.5 cups of water, salt and cover the sauce pan.
Cook it on medium heat till the rice and dal become very soft and keep stirring in between to avoid burning. Add more water if necessary.
Garnish with coriander and serve hot with coconut chutney.
Recipe courtesy of Sify Bawarchi