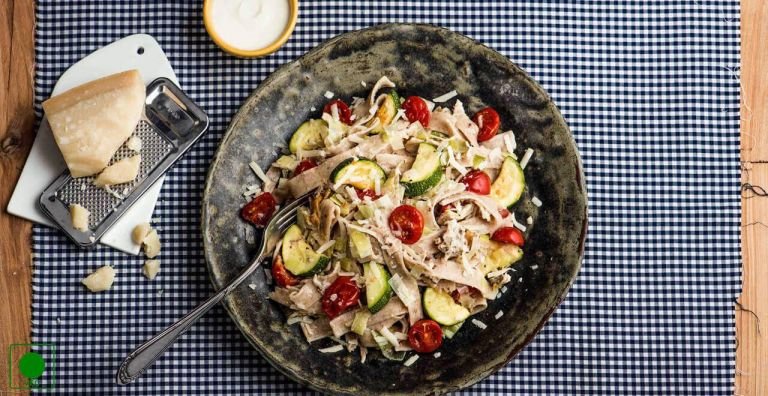 There is nothing nicer than the flavor of fresh tomatoes. So my today's post is Speedy Tomato Pasta. This means no longer waiting for the delicious pasta.
Tomato flavor pasta is all time favorite among all. Here I use fresh tomatoes but you can use canned too, but the trouble you take to prepare a sauce while the pasta is cooking there is nothing tastier against this. This quick pasta prepared in just 20 minutes so it is not that time consuming and you don't have to wait for long for your favorite pasta. Here is the recipe for this luscious classic pasta.
Ingredients
– 1 splash of extra virgin olive oil
– 1 chopped onion
– 1 head of garlic, peeled
– 28 ounce can of whole tomatoes
– 5 ounce can of tomato paste
– 1 cup red wine
– 1 tablespoon oregano
– 1-2 bay leaves
– Salt to taste
– 454 gm box of farfalle or any pasta
– 16-ounce box of baby spinach
How To Cook?
1. Add a splash of olive oil to a large saucepan over medium heat.
2. Add garlic and onion and saut? just to heat through or 1-2 minutes.
3. Pile in the tomatoes, tomato paste, red wine, oregano, bay leaves and salt. Bring it to the simmer over low heat and let it cook for about 20 minutes or until all the flavors are a?blend.
4. Meanwhile, cook the pasta in lots of salty boiling water until al dante. Drain.
5. Fold the sauce and spinach into the cooked pasta, stirring and allowing the heat to wilt the spinach.
6. Serve immediately.
Preparation Time: 20 Minutes
Cooking Time: 20 Minutes
Servings: 2-3 Persons