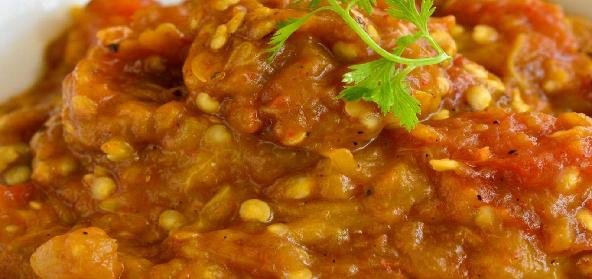 Ingredients:
• 3 – Brinjal
• 1 – Tomato
• 1 – Onion
• 2 tbsp – oil
• 1/4 tsp – Tamarind paste
• 3 – Green chillies
• 4 – Red Chillies
• 1 tsp – Mustard Seeds
• 1/2 tsp – Methi seeds
• 1 tsp -cumin seeds
• a pinch of Asafoetida
• salt to taste
Method:
Cut the brinjals into one-inch pieces and put them in salt water.
Cut the tomato and onion into small pieces.
Heat 1.5 tbsp of oil in a saucepan and fry the brinjals until half done.
Add the onion and tomato pieces and fry until the brinjal is very soft. Leave aside for cooling.
In a separate pan, add 1/2 tbsp of oil. Add mustard and methi seeds.
When the mustard seeds begin to splutter, add cumin, asafoetida and red chillies.
When the seasoning cools down enough, grind together with green chillies, salt and tamarind.
Mash the fried brinjal-onion mixture well and mix it with the ground paste.
Recipe courtesy of Radhika Jandhyala