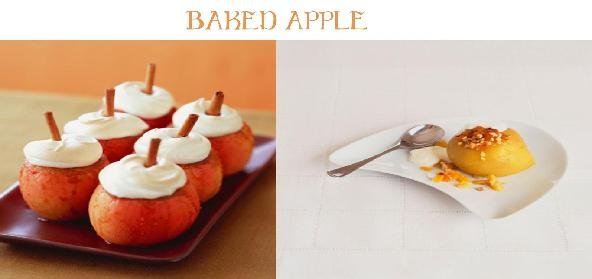 Ingredients:
• 6 cooking apples
• For the filling:
• 200 g – Almond paste/marzipan
• 50 g – Raisins
• 20 g – vanilla Sugar
• 40 g – chopped Almonds
• 1/4 tsp – Cinnamon
• 50 g – Butter
• 30 ml – rum
• vanilla sauce (cold or hot) as required
Method:
Preheat the oven to 180 C.
Mix the almond paste, vanilla sugar, cinnamon, rum, raisins and chopped almonds.
Cut a hole (approximately 2 cm in diameter) through each apple, and remove the seeds and core.
Add the fillings to the apples and put a little dollop of butter on top.
Grease a ceramic baking tray with butter and place apples on it.
Bake the apples in an oven for 20-25 minutes.
The baking time depends on the size of the apples.
Serve hot with cold or hot vanilla sauce drizzled on top.