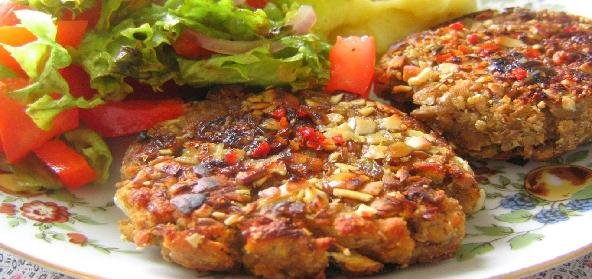 Ingredients:
• Raw bananas – 3
• Potato – 1
• Green peas – 1/2 cup
• Garam Masala – 1/2 tsp
• dhaniya powder – 1 tsp
• Ginger & Garlic paste – 3/4 tsp
• chilli powder – 1 tsp
• Corn flour – 1/4 cup
• bread crumbs powder – enough to apply to the cutlets
• oil to fry
• salt to taste
Method:
Pressure cook the Raw Bananas and Potato for up to three whistles. Mash the Bananas while it is still hot. Add the green peas and all the above ingredients (except bread crumbs powder) and mix well.
Lastly add corn flour and mix.
Make patties/cutlets with the mixture.
Apply very little water on both sides of the cutlet and roll it in the bread crumbs powder (As the cutlet is slightly wet, bread crumbs will stick to it).
Continue the same procedure with rest of the patties/cutlets.
Pan fry the cutlets using little oil, until cutlets turn golden brown.
Tip-
Bread crumbs powder can be made by using the 1st and last slices taken from a bread loaf, dried & then reduced to powder form in the blender.
This powder can also be stored in an air tight container & used whenever needed.
Take care not to use wet hands.
Recipe courtesy of Snigdha Reddy