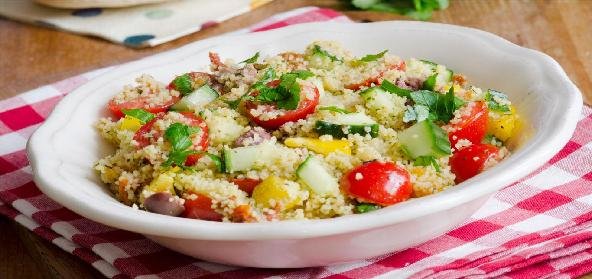 Ingredients:
• 2 cups – Barley
• salt to taste
• 3 – medium-sized Tomatoes (cored and diced)
• 3/4 cup – mixed Olives (pitted and coarsely chopped)
• 5 tsp – freshly squeezed Lemon juice (more if needed)
• 2 tbsp – Olive oil
• freshly ground black pepper for seasoning
• 1 tbsp – Tomato Twist
Method:
Pour the barley in a strainer and rinse under cold water until the water runs clear.
Place the washed barley in a large saucepan, cover with about 2 to 3 inches of water, season with salt and bring to boil over medium-high heat for about 15 to 20 minutes.
Strain the barley and transfer to a large bowl. Keep at room temperature and allow it to cool for about 25 minutes.
Add the tomatoes, olives, lemon juice and olive oil.
Season with salt, pepper and Tomato Twist and stir to combine.
Recipe courtesy of Sify Bawarchi