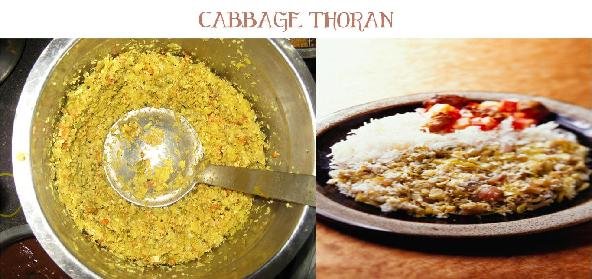 Ingredients:
• Cabbage – 1 (Medium size)
• White Channa or Chick peas – 1 cup
• Coconut – 3/4 cup (Grated)
• Jeera – 2 tsp
• Red Chillies – 2 or 3
• Salt, Turmeric powder
• For seasoning:
• Oil, Mustard, Urad dhal and Curry leaves
• Coriander leaves optional
Method:
Wash and soak chick peas with plenty of water during the previous night.
On the next day, boil it with a little salt and keep aside.
Chop the cabbage finely and add some water, salt, turmeric powder and cook it. Keep aside.
Grind coconut, jeera, red chillies.
In a pan, add the seasoning, vegetables, channa, coconut paste and if necessary, salt.
Make sure the vegetables and channa are soft.
Let it cook until it is thick.
Add a little rice flour if you need the kootu to be thick.
Recipe courtesy of Sify Bawarchi