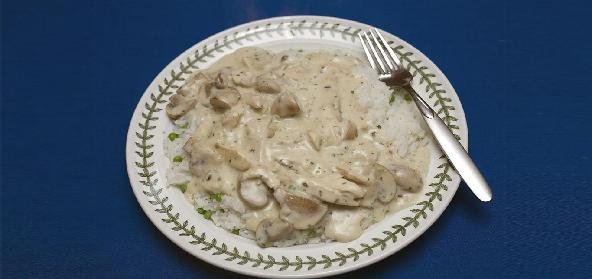 Ingredients:
• 2 – broiler chickens (weighing about 800 g each)
• 2 cups – Cream
• 1/4 cup – Butter
• 1 tbsp – Lemon juice
• To taste – salt and pepper
• 2 tsp – Corn flour
• 2 – beaten Egg yolks
• To taste – salt, pepper and mustard
• 2 tbsp – grated cheese
Method:
Cut the broiler chicken into four pieces.
Remove the extra bones, so that the pieces look like chops.
Rub the chicken pieces with lemon juice, salt and pepper. Leave for 6 hours.
Fry the chicken pieces in butter, in a frying pan till cooked.
Arrange on a shallow plate.
Melt cream, corn flour and beaten egg yolks.
Drain extra butter from frying pan.
Pour cream mixture into frying pan.
Cook gently, stirring with a wooden spoon until thick.
Add salt, pepper and mustard to taste.
Pour sauce over chicken pieces.
Sprinkle a little grated cheese, over the sauce and keep the chicken hot, until serving time.
Decorate with crisp fried julienne potatoes.