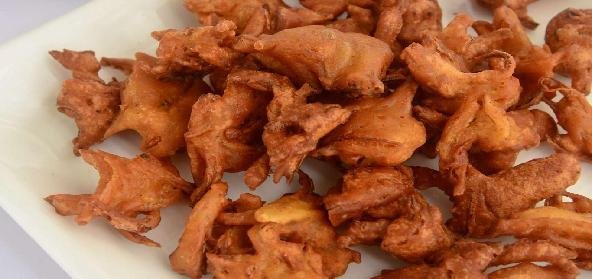 Ingredients:
• 150 g – french beans, finely chopped
• 3 sprigs – spring onions, with greens, finely chopped
• 3 – green chillies, finely chopped
• 1 cup – gram flour (besan)
• 1 tbsp – Rice flour
• 1/2 tsp – Turmeric powder
• 1/4 tsp – carom seeds (ajwain)
• 1/4 tsp – Cumin seeds
• 1 slice – day old bread, crumbled
• 2 tbsp – hot oil
• oil to deep fry
• salt to taste
Method:
Put spring onions in a large mixing bowl.
Sprinkle 1/4 a tsp salt, toss, and keep aside for 10 minutes.
Add all other ingredients, except oil.
Mix well, with the water exuded from marinated onions.
If mixture is too stiff, add a little more water and mix gently.
If required, add more salt or chilli to taste.
Heat oil in a frying pan and add little dumplings of the mixture.
Fry on a medium heat, till light golden brown.
Drain, absorb excess oil on kitchen paper.
Serve hot with chutney or sauce.
Recipe courtesy of Saroj Kering