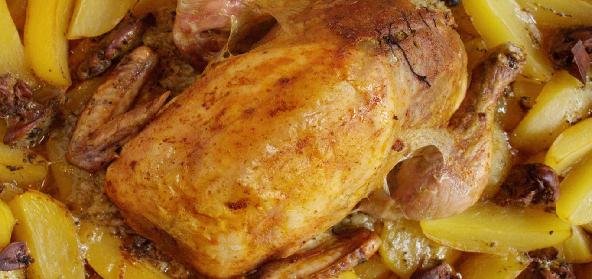 Ingredients:
• 1 kg – Chicken
• 4 – large boiled Potatoes
• 3 tbsp – oil
• 1 tsp – salt
• 1 tsp – Sugar
• 3/4 tsp – Haldi
• 1 cup – water
• 1tsp – Corn flour
Method:
Heat oil in a pressure cooker. Add salt and sugar. Let it caramelise till dark golden brown.
Add 2 tbsp hot water to stop caramalisation.
Add haldi. Stir.
Add the chicken and stir to coat with the caramel/haldi mixture.
Continue to fry the chicken on medium heat till the pieces are nicely browned.
Now add 1/4 cup hot water and let it pressure cook for about 5 mins.
Cool the cooker and open. Dry fry the chicken. Remove to a hot plate.
Add the halved boiled potatoes to the pressure cooker and sprinkle with a little salt. Fry till golden brown in the leftover chicken fat. Remove to the chicken hot plate.
Into the remaining fat, stir in 1/2 cup water with 1 heaped tsp corn flour and cook till you have a nice gravy.
Pour over the chicken hot plate.
Serve the chicken roast with garlic bread and coleslaw.
Recipe courtesy of Joyce