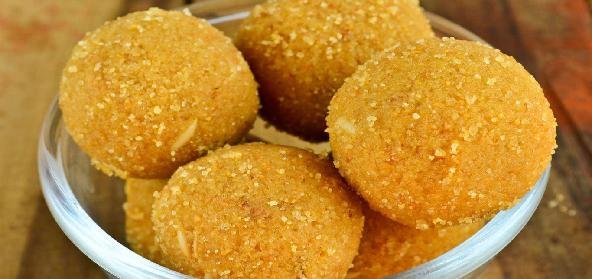 Ingredients:
• 1 cup – jowar
• 3/4 cup – Brown sugar (powdered)
• 1 tsp – Coconut
• 4-5 – cashew (powdered along with sugar), optional
• 3 tsp – Ghee
• 3-4 tsp – warm Milk, approximately (to make laddu) or use Ghee if preferred instead of Milk
• 1/4 tsp – Cardamom powder
• 2 tsp – chopped nuts (optional)
Method:
Heat ghee in a pan and fry jowar till nice aroma comes.
Powder sugar along with coconut and cashew.
Add cardamom powder and chopped nuts to jowar flour and mix with powdered brown sugar.
Add warm milk or ghee little by little and cook till it all gathers together.
Cool a little and make lemon sized balls (laddus).
Recipe courtesy of ambika