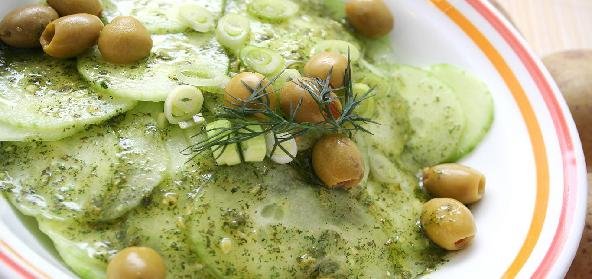 Ingredients:
• 1 medium sized Cucumber
• 25 g – coarsely ground Peanuts
• 2 to 3 Green chillies
• ½ tsp – Cumin seeds
• ¼ tsp – Mustard Seeds
• a pinch Asafoetida (optional)
• 1 tsp – Lemon or Tamarind juice
• 1 tbsp – Ghee
• 2 tbsp – fresh grated Coconut
• 1 to 2 tbsp – finely chopped Coriander leaves
• Sugar and salt to taste
Method:
Peel the cucumber, slicing off the ends.
Taste one end to check whether it is bitter.
If it is, rub the cut slice by turns on both ends of the vegetable to pull out the bitterness.
Chop the cucumber fine.
If you dice the cucumber much before serving, store it in the fridge or it may release too much liquid.
Just before serving, transfer the chilled cucumber to a serving bowl and mix with the peanuts, salt, sugar, lime or tamarind juice and ¾ of the coriander and coconut (never add the salt in advance).
For seasoning:
Heat the ghee in a seasoning wok, till it is almost smoking.
Reduce the heat; pop the mustard seed and green chillies into it.
Remove from the stove and add cumin seed and asafoetida.
Pour this mixture over the salad and stir well.
Garnish with the remaining coconut and coriander.
Serve with a meal or snack.
Recipe courtesy of Anita Raheja