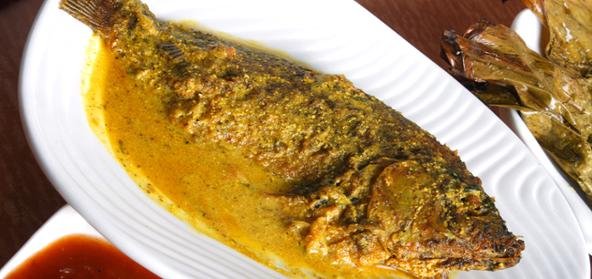 Ingredients:
• 200 g – fresh carp fish (or rohu fish)
• Alternatives – Sole fish fillets or tilapia fish
• 1/2 stem – fresh Ginger (make a paste using the food processor)
• 1 big – onion, finely julienned
• 1-2 – Tomatoes (diced)
• a few sprigs – Cilantro
• 1/2 tsp – haldi/turmeric (approximate)
• 2-3 – Green chillies
• oil to shallow fry
• salt – (approximate)
Method:
Wash the fish pieces and rub a little turmeric and salt on the pieces.
Keep for 10 minutes.
Heat a little oil in a non-stick wok or frying pan.
Wait till the oil is very hot, and fry the fish pieces a little (till they are light brown in colour).
Keep the fish pieces aside.
Then heat oil again.
Put in the ginger paste/grated ginger, green chillies, tomatoes, the onion pieces, and a little turmeric.
Stir fry for about 15 minutes over medium heat till the onions are cooked a little.
Keep stirring as you saute.
When the consistency is thick, add the fish pieces.
Stir everything together (be careful about not breaking the fish pieces), add salt.
Then add a little water (enough to cover the fish pieces) and the chopped cilantro.
Put the heat to high, and boil.
If you are using a pan with a lid, use the lid to cover the pan.
This will seal the flavours.
After 20 minutes turn off the heat.
Serve hot with basmati rice.
Recipe courtesy of Shyamolika