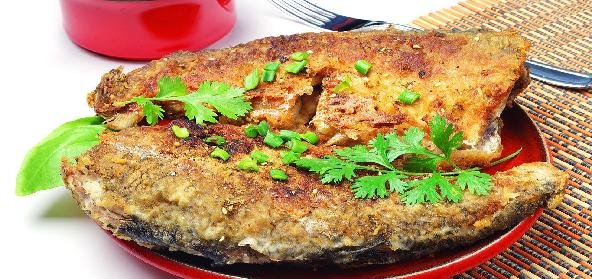 Ingredients:
• 4 pieces – fish fillet
• 1 bunch – fresh coriander
• 8 – green chillies, optional
• Salt
• 2 – lemons, juiced
• 10 Cloves – Garlic
• 4 tbsp – oil
Method:
Marinate the fish with lemon and salt for an hour or two.
Blend all the remaining ingredients – except oil.
Wash the fish and place on a baking sheet lined with foil.
Brush some oil on it.
Coat the fish with the blended mixture (reserving some). You can also sprinkle some salt and lemon juice.
Close the foil, leaving a small opening on top.
Place in a preheated oven at 200 degree C.
Bake on the lower shelf for 15-20 minutes.
When the fish is done, coat with some more of the ground mixture and place beneath the grill for a couple of minutes.
Serve with chips or mashed potatoes.
Recipe courtesy of Neesha Shabir