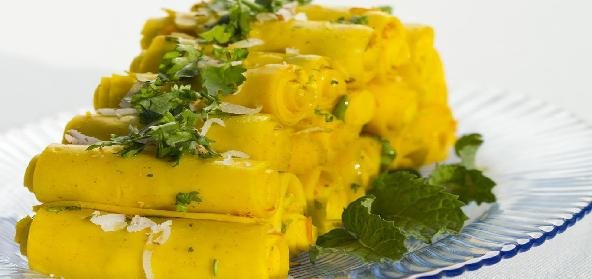 Ingredients:
• 1 cup – gram flour (besan)
• 1 cup – yogurt
• 1 cup – water
• 2 – Green chillies
• 1/2 tsp – salt
• 1/4 tsp – Turmeric powder
• 1/4 tsp – Mustard Seeds
• 1/2 tsp – sesame seeds 2 tbsp – oil
• 1 sprig – Curry leaves
• 1/2 tsp – Cumin seeds for tempering
• 1 tsp – fresh Coconut
• 1 tsp – fresh Coriander leaves to garnish
Method:
Blend all ingredients in a grinder and pour into a microwave safe bowl
Microwave at high for 3 mins, then take out and mix well.
Microwave again for 3 mins, then remove and spread a little on a steel plate to check if the batter can be rolled smoothly.
Now the batter is ready
Once you pour the batter onto a steel plate or platform, you will need to spread it out with a flat spatula or flat base vessel as it will be hot.
Once it cools down, roll them into the required size.
Heat oil in a small pan, add mustard seeds, some sesame seeds, some cumin seeds, and a few curry leaves. Once they pop crackle, add the oil on the khandvi rolls, garnish with fresh coriander leaves and freshly grated coconut.
Recipe courtesy of Manisha Mistry