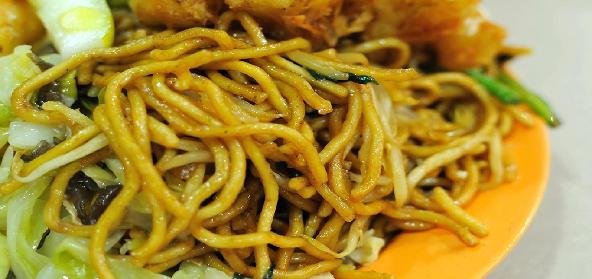 Ingredients:
• 500 g – fresh Mee or Bee Hoon or Kwae Teow (If not available, you may substitute that with 4 packets of Maggi noodles)
• 2 – Spring onions
• 1 – Capsicum (green)
• 4 – Ginger (small strips)
• 2 – Onions (small), cut in small narrow strips
• Fresh Chinese Kai Lan Veg (available with Chinese Veg stalls or substitute with any fresh green local veg)
• Peas – 100 g
Method:
Wash and keep fresh Mee or boil packet noodles for 15 mins, keep aside.
Put a Chinese wok on a small fire, put 4 tbsp of corn oil to simmer. Add cut onions and all the cut vegetables. Stir-fry only for 4 mins.
Add salt, one tbsp soya sauce and 2 tbsps chilli sauce while stir frying.
Add fresh washed Mee or boiled Maggi noodles into the Wok.
Stir fry for 8 mins on a slow fire and remove.
Serve hot with green chillies seasoned in vinegar.
Recipe courtesy of Geetha