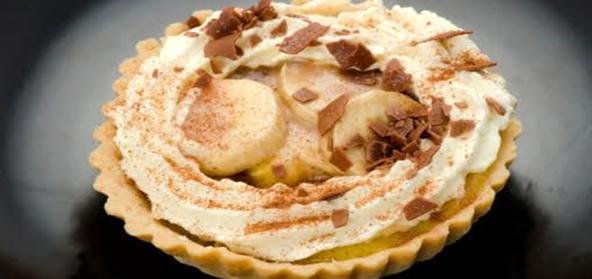 Ingredients:
• For the banoffee pie base:
• 100 gms – Butter
• 150 gms – Digestive biscuits, crushed
• For the caramel:
• 175 gms – Butter
• 75 gms – Castor Sugar
• 400 gms – Condensed Milk can
• For the topping:
• 4 nos – Small Bananas
• 250 ml – Double cream, lightly whipped
• Cocoa powder for dusting
• Loose bottomed cake tin, greased with the based lined 20 cm
• 1 – Piping bag
Method:
Use a food processor or rolling pin to crush the biscuits into fine crumbs.
Melt the butter in a large saucepan and stir in the crushed biscuits until the two blend together.
Press the mixture into the base and sides of a 20cm (8in) loose bottomed cake tin.
Chill for 30 mins.
For the caramel, melt the butter and sugar over a low heat until the sugar has dissolved and the mixture is golden in colour.
Add the condensed milk, stirring continuously and bringing to the boil.
Keep the caramel boiling steadily for 2 mins, while stirring to make a thick golden caramel.
Take the caramel off the heat and cool.
Slice the banana and arrange most of them over the biscuit base then spread the caramel over the top.
Chill for 30 minutes, or until firm.
When ready to serve, remove the pie from the tin and place on a serving plate.
Fill a piping bag with the whipped cream and squeeze onto the banoffee pie.
Decorating as desired with the remaining bananas and a light dusting of cocoa powder.