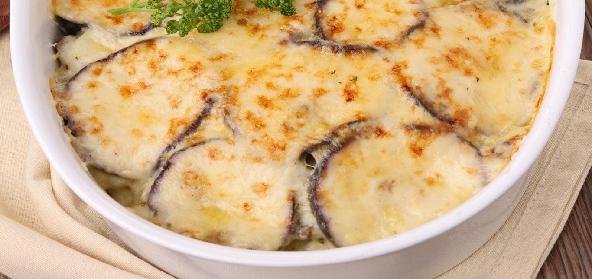 Ingredients:
• 2 brinjals, cut into neat rounds
• 1 medium Onion
• 1 inch – Ginger
• 4 Cloves – Garlic
• 4 Green chillies
• a handful of Coriander leaves
• 1/4 tsp – Turmeric powder
• 1 tsp – each of ground cumin and Coriander seeds
• 2 medium tomatoes, peeled and pureed
• 1 cup – grated cheese
• 1 cup – ketchup
• 1 tsp – Corn flour, dissolved in half a cup of water
• breadcrumbs, toasted
• salt and chilli powder to taste
Method:
Grind onions, ginger, garlic, chillies and coriander leaves to a paste.
Mix together all the spices and ground paste and apply on the slices of brinjal.
Mix together tomatoes and the leftover ground paste and cook till the tomatoes are soft.
Add 1/2 cup cheese and corn flour mixture and cook till the sauce is thick.
In a non-stick baking tin or lightly greased tin put alternate layers of brinjal and sauce. Start and finish with a layer of brinjals.
Cover with remaining cheese and sprinkle crumbs on top.
Bake in a moderate oven till golden on top.