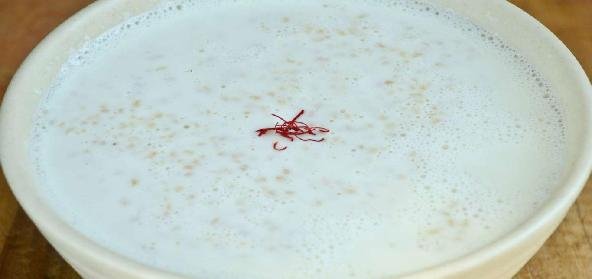 Ingredients:
• 1 litre Milk
• 3/4 cup cashew nuts, soaked for 3-4 hours in warm water
• 1/2 cup Sugar
• 1 tsp each- Almonds & pistachios, slivered thinly
• 1/4 tsp Cardamom powder
• 1/4 tsp saffron, soaked in 1 tbsp of hot Milk
Method:
Rub saffron soaked in milk with pestle till dissolved and keep aside.
Drain water from cashew nuts (save some for garnish) and grind to a smooth paste.
Put milk to boil in a large, heavy pan.
Add sugar and allow it to simmer for 10 to 12 minutes, stirring occasionally.
Add cashew nut paste, stir, and bring to boil; then simmer on low for 2 to 3 minutes.
Add slivered nuts, mix, and take off fire.
Pour into individual bowls.
Sprinkle bits of cashew nut and cardamom powder on each.
Spray some saffron milk on top with a small kitchen brush or with hands.
Serve hot and fresh.
Recipe courtesy of Saroj Kering