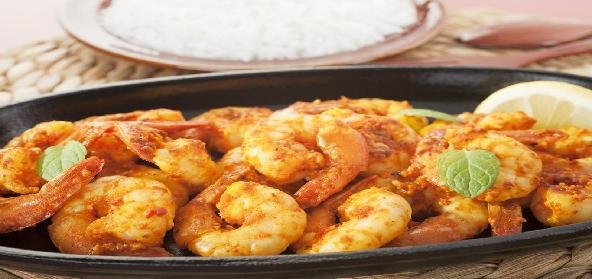 Ingredients:
• 500 gms – tiger Prawns
• 2 bunch Spring onions
• 2 tbsp – fresh coriander leaves, finely chopped
• 4 tbsp – oil
• 1.5 tsp – Cumin seeds
• 1.5 tsp – Turmeric powder
• 2 tsp – Red Chilli powder
• salt to taste
Method:
Clean and de-vein the prawns. Wash thoroughly.
Cut the spring onions into pieces.
Retain the stem of one spring onion and chop finely.
Heat oil in a kadai and add cumin seeds and chopped onions.
Fry the onions till golden in colour.
Add salt to taste and turmeric powder and fry for 2-3 minutes on a low flame.
Add the prawns, red chilli powder, and a handful of chopped greens and mix well.
Cook on a low flame, mixing at regular intervals till the prawns are cooked.
Garnish with coriander leaves.
Recipe courtesy of Anitha Raheja