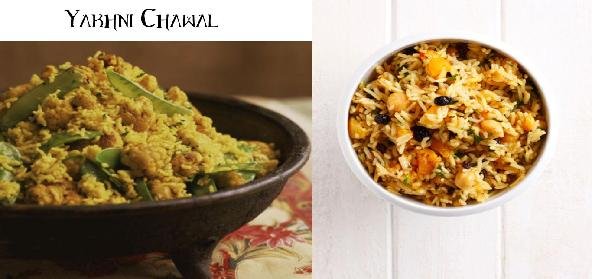 Ingredients:
• 8 pieces broiler Chicken (washed)
• 20 to 15 peppercorns
• 6 black Cardamoms
• 4 large onions, sliced
• 4 tbsp – ground ginger-garlic
• 2 cups – rice, picked, washed and soaked
• 1 large stick Cinnamon
• 15 Cloves
• 4 cups – water
• 5 tbsp – oil
• Green chillies to taste (sliced)
• salt to taste
Method:
Into a large, microwave-safe dish, put the first 8 ingredients.
Microwave covered at 100% power for 10 minutes.
Let stand 5 minutes, and then remove chicken pieces from the stock.
Lightly heat the oil in a kadai on the gas. Add the onions.
Fry till a light brown then add half the ginger and garlic and fry till golden brown.
Add the chicken pieces and fry till lightly browned.
Add the rest of the ginger garlic and saute for 5 minutes.
In a large microwave-safe dish add the stock, browned chicken, drained rice and chillies.
Microwave uncovered at 100% power for 12 minutes or till the rice has steamy holes on top.
Reduce power level to 50% and continue to cook covered for 6 minutes.
Stand 5-7 minutes before serving.
Recipe courtesy of Anita Raheja