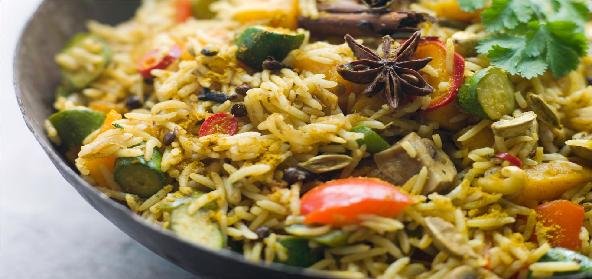 Ingredients:
• 2 cups – cooked basmati Rice
• 1 – green bell pepper
• 1 – red bell pepper
• 1 – yellow bell pepper
• 1 – Orange bell pepper
• Ginger -garlic paste – 1 tsp
• Garam Masala powder 1 tsp
• Butter – 1 tbsp
• Salt 1 tsp
• 1 Lime
Method:
Cut the capsicum into fine, thin and long slices.
Take a big pan, pour sufficient butter in it.
Add the colourful bell pepper into the pan and add little bit of salt and 1 tsp of ginger- garlic paste to it.
Close the lid and let it cook for a while.
When the slices are well cooked add little bit of garam masala powder to it.
Mix this into the cooked basmati rice. Add salt as needed.
Finally squeeze lime and garnish with coriander leaves. Serve.
Recipe courtesy of Gopika Sadhu