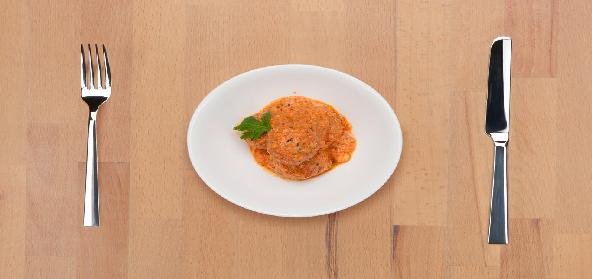 Ingredients:
• 2 nos – boiled Potatoes
• 1 cup – mashed Cottage cheese
• 1 tbsp – Corn starch
• For Stuffing-
• 1 tbsp – kishmish, chiraunji
• salt as per tastes
• 1/2 tsp – pepper powder
• oil for greasing
• For the Gravy-
• 2 cups – Tomato puree
• 1 tsp – Ginger Garlic Green chilli paste
• 1/4 tsp – Red Chilli powder
• 2 tbsp – coriander powder
• 1/2 tsp – Orange colour
• 1 cup – Milk
• 1/2 tsp – kasoori Methi
• 1 tbsp – Butter
• salt as per taste
• For Garnishing-
• 2 tsp – grated cheese
Method:
Mix cornstarch, potatoes, paneer, salt and pepper. Divide in twelve portions of equal size and flatten each portion of mixture on your palm. Fill the stuffing and make balls of it.
Place on a greased micro safe dish with flat surface set the power level to 600 W or medium as per your oven and bake for 5 minutes.
Place grill rack in oven and place koftas on the non-stick crusty plate.
Using the combination mode set the timer for 1 minute.
Remove the crusty plate from the oven and let the koftas cool. The koftas will be golden brown in colour.
For the Gravy:
Mix tomato pure, salt, chillie powder, kasoori methi, orange colour coriander powder this will form a thick paste.
In a micro safe bowl, pour butter and set the power at the highest for 10 seconds (the butter will melt).
Then add ginger garlic green chillie paste and mix well and set the power at highest for 1 minute with the lid covered. This will roast paste.
Now add the masala paste. Then cover the dish with a lid and set the power at medium and cook the paste for 4 mins with the lid covered or till the butter separates from the mixture.
Finally, add milk and cook the mixture at medium power for anther 4 mins.
This will make the gravy ready.
For Serving:
Set the power to lowest.
Take a flat micro safe dish arrange koftas and pour the gravy over it.
Garnish it with grated cheese and cook for 3-4 minutes till the cheese melts.
Serve hot with steamed rice or hot naan of your choice.
Recipe courtesy of Sandhya Khattri