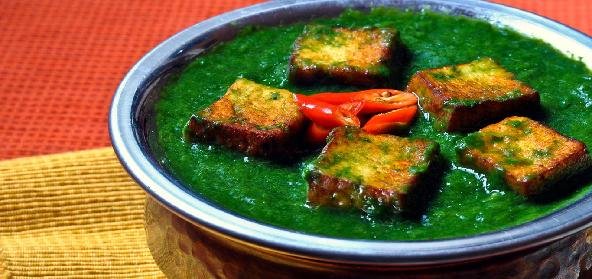 Ingredients:
• Fresh Palak – 1 cup
• Paneer – 1/4 kg
• Tomato Puree – 1 cup
• Onions – 2 (ground into a fine paste)
• Garam Masala powder – 1/2 tsp
• Cumin seeds -1/4 tsp
• Salt, chilli powder – to taste
• Oil for frying
Method:
Boil palak and cool. Then grind to make a smooth paste and keep aside.
Cut the paneer into small cubes and fry in oil till golden brown.
Heat a small amount of oil in a pan. Add cumin seeds and let it splutter.
Add the ground onions and tomato puree.
To this add salt, chilli powder, garam masala powder and cook till oil leaves the mixture.
To the well-cooked mixture, add the palak and the paneer cubes. Stir well.
Add a little water if required. Bring it to a boil and remove from the flame.
Garnish with freshly cut onions, tomatoes and some cream.
Serve hot.
Recipe courtesy of Sumitra