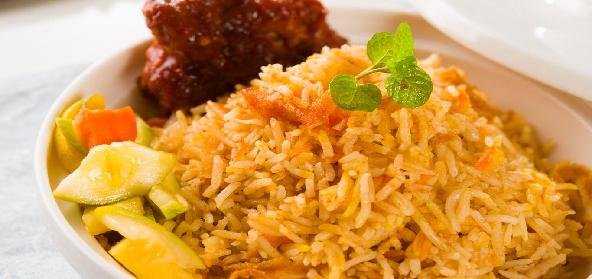 Ingredients:
• 1 kg – Basmati Rice or any other good Rice, washed and soaked for about 1 hour
• 1 kg – Mutton / lamb (or beef) cut into fairly big pieces
• 3 – Bay Leaves
• 2 tsp – all spice powder or Garam Masala
• 3 – large tomatoes, chopped
• 3 – small sticks of Cinnamon
• 3 – Cloves
• 3 – Cardamoms
• 2 cups – oil or Ghee
• Salt to taste
• 6 – green chillies, slit lengthwise
• 3 tbsp – Ginger Garlic paste
• 2 tsp – chilli powder
• 3 – large onions, sliced finely
• 1 tsp – Turmeric powder
• 1/2 cup – fresh Mint leaves
• 3 tbsp – curds / yogurt
Method:
Wash the meat and marinate with the spice powder, green chillies, curds, half the quantity of ginger garlic paste and turmeric powder for half an hour.
Heat the oil or ghee in a large vessel and add the bay leaves, cloves, cinnamon, cardamom, remaining ginger garlic paste and onions and saute for some time.
Add the chopped tomatoes, mint leaves and chilli powder and simmer till the oil separates from the mixture and the tomatoes are reduced to pulp.
Add the marinated meat and salt and cook till tender.
Remove the pieces and keep aside.
Now, add sufficient water to the gravy in the vessel so as to get about 7 glasses of liquid.
Add the rice and cook till half done.
Now, add the cooked meat and mix well.
Cover and cook on low heat for a few more minutes till all the liquid evaporates and the biryani is done.
Recipe courtesy of Bridget White