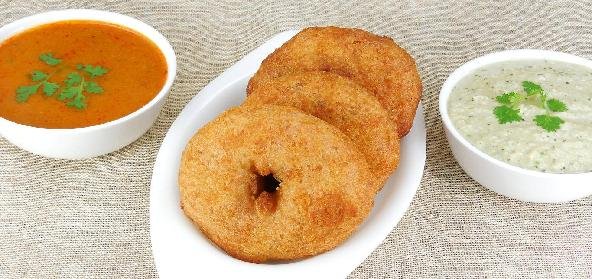 Ingredients:
• 1 cup raw Rice
• 1.5 cups black gram (urad) dal
• 1 tbsp Bengal Gram (chana) dal
• 2 green chillies, minced
• 1 tsp ginger, minced
• 1 tbsp coriander leaves, chopped
• 2 tbsps Coconut pieces, finely chopped
• Few curry leaves, finely chopped
• Salt to fry
• Oil to fry
Method:
Soak raw rice and black gram dal together for 2 hours.
Grind to stiff, slightly coarse batter. Add salt and let the batter ferment for 3-4 hours.
Soak Bengal gram dal in water for 1 hour.
Drain and add to the fermented batter.
Add rest of the ingredients except the oil.
Heat oil for deep frying till it is moderately hot.
Take lime size lumps of batter and flatten to 1.5 cm thick disc.
Deep fry till golden brown.
Drain and serve hot with chutney.
Recipe courtesy of Jayshree