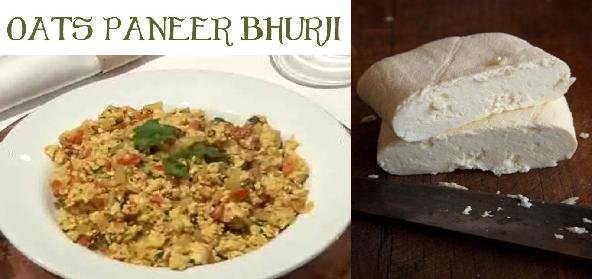 Ingredients:
• 4 tbsp – white Oats
• 300 gms. Paneer (crumbled)
• 1 white Onion (medium sized)
• 1/2 cup – chopped red and green Capsicum
• 1 tsp – oil
• cumin seeds, salt and pepper to taste
• a handful of Coriander leaves for garnishing
Method:
Cut the white onion into fine pieces.
Add the cumin seeds and chopped onions to the oil in a pan.
Saute until the onions turn translucent.
Add the capsicum and saute for a few minutes more.
Add the oats and cook for 2 mins. over a low flame.
Add the crumbled paneer, salt and pepper.
Stir for a few mins. until all ingredients blend together.
Garnish with chopped coriander leaves.
Serve hot on toasted brown bread.