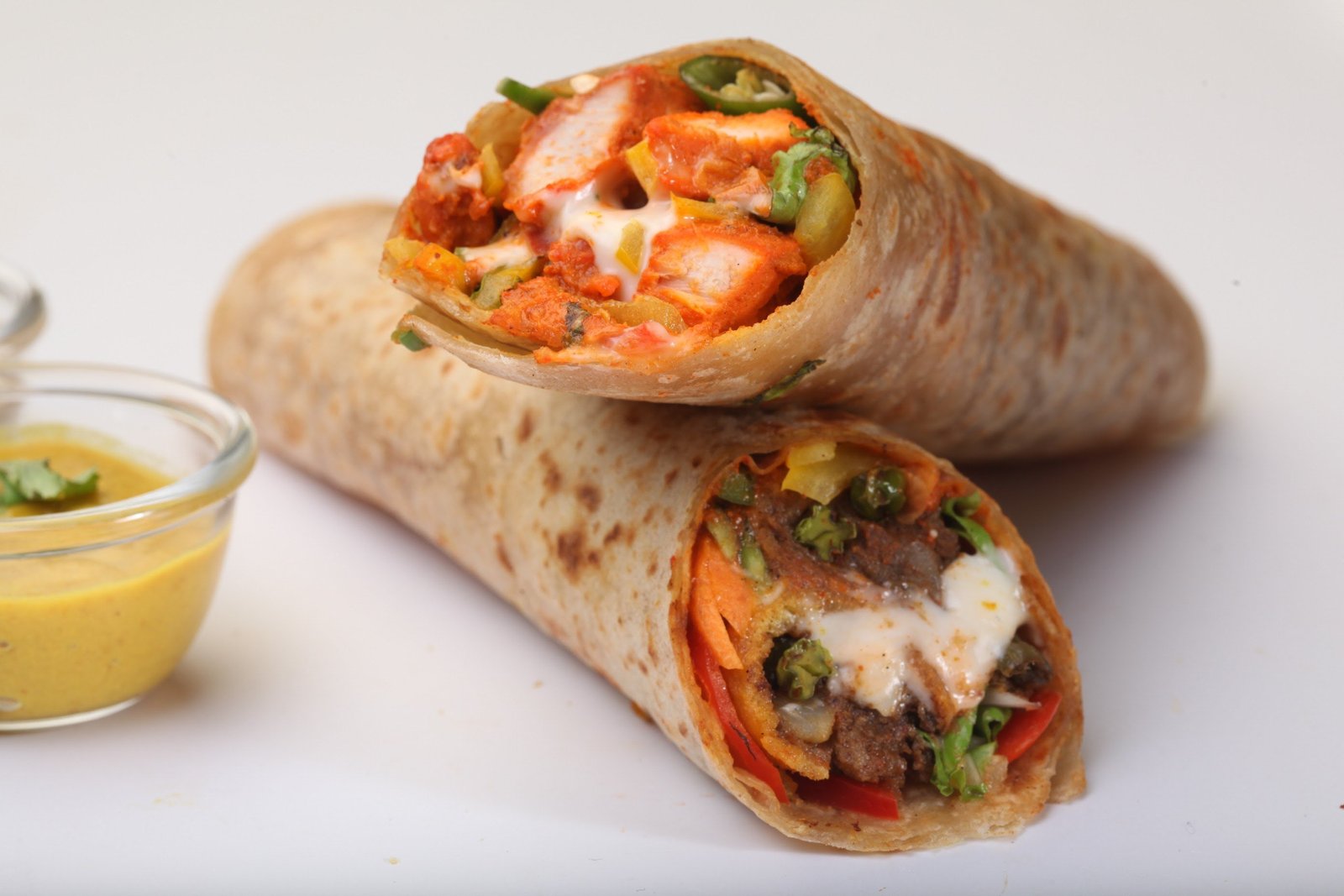 Delicious and crispy wrap stuffed with spicy potato patty and onion mixture
Ingredients:
For Franky Wrap
1 1/4 cups (225 gm) maida (plain flour)
75 ml warm water
For Tikki Filling
1 teaspoon garam masala powder
2 cup boiled, peeled, mashed potatoes
1 teaspoon red chilli powder
1 teaspoon amchur (dry mango powder)
2 teaspoon coriander powder
1/2 teaspoon cumin powder
Salt to taste
1/2 cup boiled sweet corn kernels
2 green chilies, deseeded and finely chopped
1/2 cup chopped coriander leaves
Oil for shallow frying
Garnish
1 cup chopped onions
1/2 teaspoon cumin powder
1 tablespoon lemon juice
Salt to taste
Method:
1. For preparing the dough, add water a little at a time in the flour. Knead into medium soft dough.
2. Divide into balls of equal portions. Apply some flour and roll into thin chapatis.
3. Cook on Tava (griddle) from both sides until crisp and golden brown.
4. Grease with some oil on both sides.
5. Mix all the ingredients for the Tikki and divide into circular shaped patties of equal portions.
6. Shallow fry these patties on a flat frying pan, till the Tikki turns brown and crispy. Remove and keep aside.
7. Cut the Tikkies into two halves.
8. Now mix the chopped onions with cumin powder, salt and lemon juice and keep it aside.
9. When assembling the franky, place the two halves of the Tikki one after the other in the center of the wrap covering the middle rectangle.
10. Garnish with the onion mix evenly on top of the Tikki.
11. You can pour some tomato ketchup or tamarind chutney as per taste as a third layer of garnish before folding both sides over lapping each other to form a cylindrical shape.