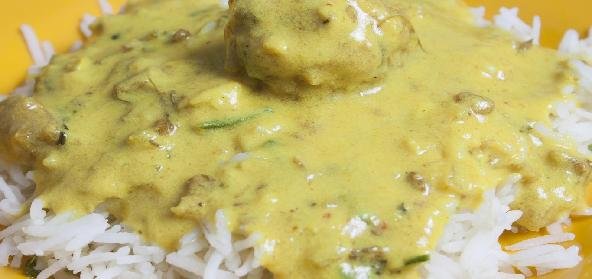 Ingredients:
• 1 cup – yellow moong dal(soaked in water for 2 hours)
• 1 tbsp- Rice (soaked with dal)
• 2 Green chillies finely chopped
• salt to taste
• oil to deep-fry
Method:
Prepare plain kadhi, but do not garnish with coriander.
Wash soaked dal and rice, drain.
Grind to a fine paste with minimal water.
Put oil to heat in a frying pan.
Mix salt and chillies into batter.
Beat very well to incorporate air.
Deep-fry small marble sized dumplings, in hot oil.
Fry to a golden brown, drain keep aside.
Repeat for all batter.
10 mins before serving, add pakodis and coriander to kadhi.
Simmer further for 3-4 mins.
Serve piping hot, with jeera or plain rice, or sindhi pulao.
Recipe courtesy of Saroj Kering