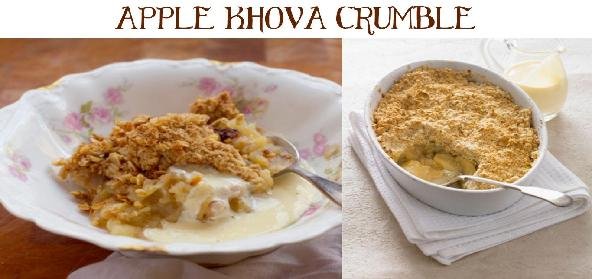 Ingredients:
• 1 tin condensed Milk
• 500 g – apples
• 3 tbsp- Butter
• 2 tbsp- Sugar
• 1.5 cup- fresh bread crumbs
• 1 tsp- Cinnamon powder
Method:
To prepare Khova:
Empty a tin condensed milk in a microwave proof dish.
Cook without covering, on medium power for 5 minutes, stirring twice.
Cook further on medium low (30%) power for 10-12 minutes, stirring every two minutes till you have khova of required consistency.
Remember that the khova will continue to cook for few more minutes while cooling and become slightly thicker.
Cool completely, knead till smooth and use as required.
To Prepare Apple Khova Crumble:
Peel, core and chop apples. Sprinkle with 1/2 cup of water and simmer gently for 5 minutes. Mix with the khova.
Spread the apple khova mixture in shallow glass pie dish and place in the refrigerator.
Mix butter and sugar with bread crumbs. Add cinnamon powder.
Spread in a baking tray and bake in mode oven till the crubs are golden brown.
The mixture can be cooked stirring in a kadai if baking is not convenient. Cool and store in air tight container.
To serve, spoon the khova into small individual desert bowls and sprinkle generously with the crumble.
Recipe courtesy of Chandra Bhat