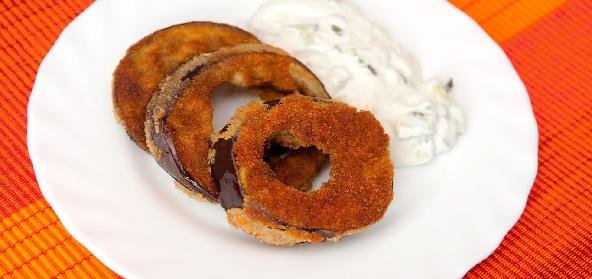 Ingredients:
• 500 g – fresh firm Brinjals
• 1 tsp – Red Chilli powder
• 1 tsp – Amchoor (dried mango) powder
• 1/4 tsp – Turmeric powder
• 1/4 tsp – dried Mint powder (optional)
• 2 pinches – Asafoetida powder
• To deep fry – Mustard oil
• To taste – salt
Method:
Slice brinjals into rounds. Sprinkle some salt, turmeric, amchoor, red chilli and mint powder.
Toss well, to blend flavours and keep aside to marinate for 20 minutes.
Press out the water from brinjals.
Heat the oil for deep frying.
Drop in some chunks at a time, deep frying, till crisp.
When golden and crisp, drain by putting on an absorbent kitchen paper.
Serve hot with rotis and chutneys.
Recipe courtesy of Saroj Kering