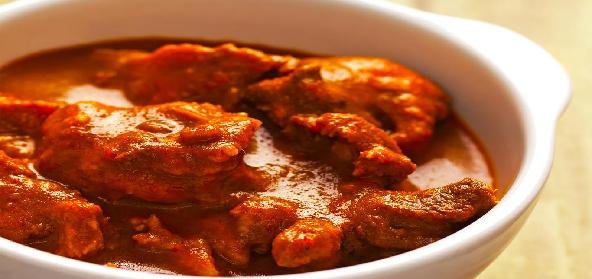 Ingredients:
• 1 kg – cubed Mutton
• 5 – medium-sized Onions
• 4 – medium-sized Tomatoes
• 2 – Potatoes (if required)
• 10 pods – Garlic
• 1 inch cube – Ginger
• 1/2 tsp – Jeera
• 1 tsp – Garam Masala
• 1/4 tsp – Turmeric (haldi)
• 1 tsp – chilli powder
• 1 tsp – coriander powder
• Oil – 4 tbsp
Method:
Chop the tomatoes and the onions and keep aside.
In a pan, pour 2 tbsp of oil and fry the jeera and garam masala until the jeera is slightly browned.
Add the onions and fry for a few minutes until they are transparent.
Add the ginger and garlic which has been made into a fine paste and fry.
Add the turmeric, coriander powder, chilli powder and fry.
Now, add the tomatoes and cook till the oil floats, adding a little water if necessary.
Add the cubed and washed mutton, and cook it well till the mutton becomes tender.
Remember this is not a gravy dish and it should look dry.
Garnish with freshly chopped coriander.
Enjoy it with chapatti or phulka.
Recipe courtesy of Reshma